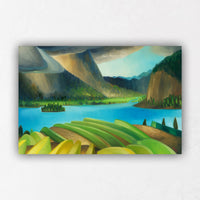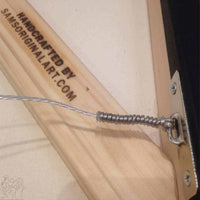 Vaseux Lake Vineyards (Original)
Description
Shipping
Returns
Type: Original Oil on Canvas

Size: 36″ x 24″
Artist: Hand Painted by Vancouver Artist, Sam Siegel.
Unique one-of-a-kind work

Premium 100% cotton canvas
Hardware Pre-Installed (Ready to Hang)
Canvas mounted on 1.5″ solid pinewood frame and finished with an elegant black edge all around.
Professionally Handmade with Care
Felt Lined Backing (for Wall Protection)
A little blurb:  "Vaseux Lake Vineyards" is an enchanting painting that beautifully captures the idyllic beauty of the Okanagan vineyards, set against a majestic mountain backdrop. The artwork features Sam's signature storm clouds, which add a whimsical and striking contrast to the serene Okanagan landscape. These clouds bring a dynamic and playful element to the otherwise tranquil setting. With lush vineyards unfolding in the foreground and awe-inspiring mountains in the distance, the painting creates a harmonious visual experience that embodies the natural splendor and tranquility of Vaseux Lake in the Okanagan. More than just a landscape depiction, this painting is an invitation to explore the heart of nature's magnificence, making it a perfect gem for any art collection.
*Colours may vary depending on room lighting, computer monitors, and mobile screens. We make every effort to ensure our representations are as accurate as possible.
Free Shipping for Ready-to-Hang Canvas Prints (Canada & USA)
Delivery Time: It generally takes around 10 business days to ship Original Artwork due to special packaging. We will notify you with the tracking number as soon as it ships!
*Shipping charges may apply for oversized paintings and original artwork due to insurance costs. Please contact us with any questions.
We believe buying artwork should be risk free! We proudly offer a 14 Day Money Back Guarantee. *conditions apply
Ready-to-hang
Each canvas comes mounted on 1.5" deep solid pinewood stretcher bars with an elegant black edge. Includes professionally installed wire and premium hardware, ready-to-hang on your wall.
Premium Quality
Throughout history art has proven to last many centuries using proper archival materials. Each step in my process uses the highest quality archival grade materials that will stand the test of time.
Original Artwork
Handmade with care
Each canvas is meticulously prepared by hand on premium 100% cotton canvas.
Certificate of Authenticity
Each Original Artwork receives a signed certificate of authenticity. 
Our Mission
Here at Sam's Original Art, our mission is to provide the highest quality original artwork that will be enjoyed for lifetimes.
Certificate of Authenticity
Comes with Each Original Painting
Come say hi
Our gallery is located at 1736 West 2nd Ave, Vancouver, BC, Canada.

Open Tuesday - Saturday from 11am - 5pm!
Contact us today