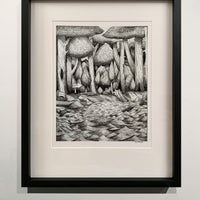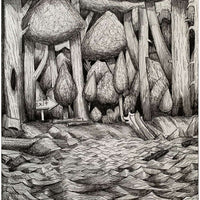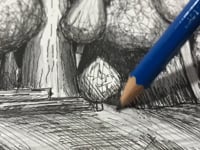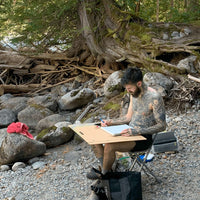 Note: No prints available for the sketches.
Description
Shipping
Returns
Type: Original Graphite, Pen and Ink on Archival Paper. 
Framed Size: 17" x 21"
Artist: Hand Sketched by Vancouver Artist, Sam Siegel.
Unique one-of-a-kind work

Premium Smooth Acid Free Paper 100 lb. (270 g/m)
Created with Graphite, Pen and Ink
Matted and Framed Behind Glass
Professionally Handmade with Care
Hardware Pre-Installed (Ready to Hang)
Felt Lined Backing (for Wall Protection)
A little blurb: Venture into the enigmatic depths of "Wavy Cove." At the heart of this captivating pen and ink composition, an incongruous exit sign beckons, oddly out of place amid the raw, rugged landscape of the cove. 
The ocean, alive and restless, portrays a ballet of movement as its waves dance and crash with rhythmic passion. Flecks of driftwood, strewn along the shore, stand testament to countless tales whispered by the sea. Each piece, with its own secret journey, asks viewers to craft their own narratives.
But it's the dense, enigmatic forest that holds the most tantalizing mysteries. Towering trees with their thick canopies hold stories of ancient times. Yet, even here, hope permeates. Subtle beams of light pierce through the foliage, casting ethereal illuminations on the forest floor. It's as though nature itself has found a way to guide the wanderer through the thicket.
"Wavy Cove" is not just a sketch—it's an exploration. It prompts questions, evokes emotions, and ignites imaginations. Dive deep into its allure, and allow yourself to be swept away by its unique narrative, skillfully crafted by Sam's signature style. Every glance promises a new journey; every moment, a fresh revelation. Discover "Wavy Cove" and embrace the mystery.
*Colours may vary depending on room lighting, computer monitors, and mobile screens. We make every effort to ensure our representations are as accurate as possible.
Free Shipping for Ready-to-Hang Canvas Prints (Canada & USA)
Delivery Time: It generally takes around 10 business days to ship Original Artwork due to special packaging. We will notify you with the tracking number as soon as it ships!
*Shipping charges may apply for oversized paintings and original artwork due to insurance costs. Please contact us with any questions.
We believe buying artwork should be risk free! We proudly offer a 14 Day Money Back Guarantee. *conditions apply
Framed Sketches
Nature is the Foundation
My preferred approach is to begin my initial sketches surrounded by nature, and subsequently, I move to the studio to expand on those ideas.
Archival Quality
Sketches are either created in graphite or pen and ink on acid free paper. I only use archival museum grade materials that will stand the test of time.
Climbing to new heights
Taking my sketchbook to the most demanding locations is always an exhilarating experience. My goal is to take the viewer with me.
Come say hi
Our gallery is located at 1736 West 2nd Ave, Vancouver, BC, Canada.

Open Tuesday - Saturday from 11am - 5pm!
Contact us today