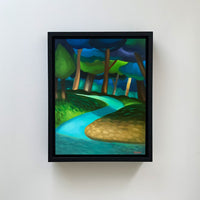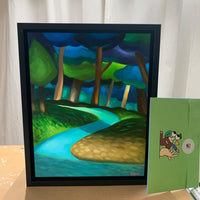 Note: No canvas prints available for the Mini Series.
Description
Shipping
Returns
Type: Original Oil on Canvas
Framed Size: 13" x 16"
Artist: Hand Painted by Vancouver Artist, Sam Siegel.
Unique one-of-a-kind work

Premium 100% Cotton Canvas
Includes Solid Wood Floating Frame
Professionally Handmade with Care
Hardware Pre-Installed (Ready to Hang)
Felt Lined Backing (for Wall Protection)
*No Canvas Prints Available for the Mini Series.
A little blurb: Dive into the mystical allure of the "Lazuli Forest." Drawing inspiration from the deep blue shades of lapis lazuli, a cherished gemstone, this work unfurls an ethereal vision of a deep-blue forest. Glimpses of moonlight and the last rays of the setting sun pierce through ancient trees, casting a surreal glow upon the winding river below. Each brushstroke carries an air of mystery and elegance, transporting the observer to a realm where nature's serenity melds with the enigma of the night.
*Colours may vary depending on room lighting, computer monitors, and mobile screens. We make every effort to ensure our representations are as accurate as possible.

Free Shipping for Ready-to-Hang Canvas Prints (Canada & USA)
Delivery Time: It generally takes around 10 business days to ship Original Artwork due to special packaging. We will notify you with the tracking number as soon as it ships!
*Shipping charges may apply for oversized paintings and original artwork due to insurance costs. Please contact us with any questions.
We believe buying artwork should be risk free! We proudly offer a 14 Day Money Back Guarantee. *conditions apply
Mini Series
Handmade with care
The Mini Series comes installed with a premium solid wood frame.
Certificate of Authenticity
Each Original Artwork receives a signed certificate of authenticity. 
archival quality
Every step in my process uses only the highest quality archival grade materials that will stand the test of time.
Come say hi
Our gallery is located at 1736 West 2nd Ave, Vancouver, BC, Canada.

Open Tuesday - Saturday from 11am - 5pm!
Contact us today