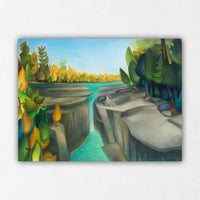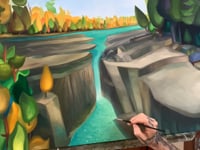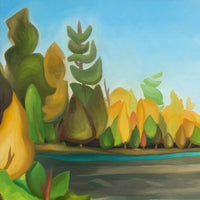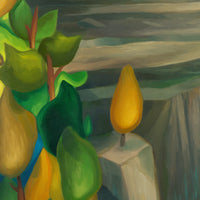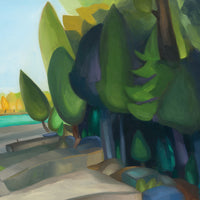 Spillway Gorge (Original)
Description
Shipping
Returns
Type: Original Oil on Canvas

Size: 32″ x 24″
Artist: Hand Painted by Vancouver Artist, Sam Siegel.
Unique one-of-a-kind work

Premium 100% cotton canvas
Hardware Pre-Installed (Ready to Hang)
Canvas mounted on 1.5″ solid pinewood frame and finished with an elegant black edge all around.
Professionally Handmade with Care
Felt Lined Backing (for Wall Protection)
A little blurb: "Spillway Gorge" captures a breathtaking scene from the iconic Ashokan Reservoir's spillway. Nestled in the heart of the Catskill Mountains, the Ashokan Reservoir has for over a century provided the lifeblood to New York City, supplying it with pristine water. Yet, its spillway reveals a lesser-known beauty, one where nature and engineering harmoniously coalesce.

In this masterful painting, autumnal glory takes center stage. The trees, depicted in Sam's signature style, burst forth in a riot of color, their leaves a jumble of bright hues, glowing with an ethereal light. Their vibrancy contrasts exquisitely with the serene turquoise water, which glistens like a thousand scattered jewels under the sun's caress. This dazzling reflection brings forth a dreamlike aura, transporting viewers to a world where nature is in its most magical form.

The rugged chiseled bedrock, painstakingly detailed, anchors the scene, reminding us of the resilience and ageless majesty of the Catskill Mountains. Together, these elements craft a tapestry of color, light, and texture that celebrates the mesmerizing beauty of the Ashokan Reservoir and the splendor of the changing seasons.

Let 'Spillway Gorge' be your portal to a world where the raw beauty of the landscape comes alive in vivid harmony.

*Colours may vary depending on room lighting, computer monitors, and mobile screens. We make every effort to ensure our representations are as accurate as possible.
Free Shipping for Ready-to-Hang Canvas Prints (Canada & USA)
Delivery Time: It generally takes around 10 business days to ship Original Artwork due to special packaging. We will notify you with the tracking number as soon as it ships!
*Shipping charges may apply for oversized paintings and original artwork due to insurance costs. Please contact us with any questions.
We believe buying artwork should be risk free! We proudly offer a 14 Day Money Back Guarantee. *conditions apply
Ready-to-hang
Each canvas comes mounted on 1.5" deep solid pinewood stretcher bars with an elegant black edge. Includes professionally installed wire and premium hardware, ready-to-hang on your wall.
Premium Quality
Throughout history art has proven to last many centuries using proper archival materials. Each step in my process uses the highest quality archival grade materials that will stand the test of time.
Original Artwork
Handmade with care
Each canvas is meticulously prepared by hand on premium 100% cotton canvas.
Certificate of Authenticity
Each Original Artwork receives a signed certificate of authenticity. 
Our Mission
Here at Sam's Original Art, our mission is to provide the highest quality original artwork that will be enjoyed for lifetimes.
Certificate of Authenticity
Comes with Each Original Painting
Come say hi
Our gallery is located at 1736 West 2nd Ave, Vancouver, BC, Canada.

Open Tuesday - Saturday from 11am - 5pm!
Contact us today