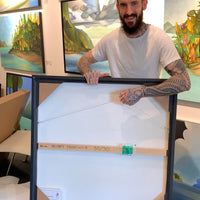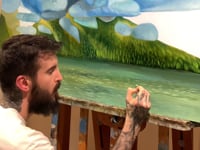 Note: Once sold out they will no longer be available to purchase. Only 30 total editions are released for this painting.
Description
Shipping
Returns
Type: Ready-to-Hang Premium Fine Art Giclée Canvas Print
Limited Edition: Only 30 Editions Released
Artist: Hand Painted by Vancouver Artist, Sam Siegel
Museum Quality - Premium Cotton Canvas

Genuine Archival Pigment Inks
Exclusive (Only Sold Here)
Hardware Pre-Installed (Ready to Hang)
Canvas mounted on 1.5″ solid pinewood frame and finished with an elegant black edge all around.
Professionally Handmade with Care
Felt Lined Backing (for Wall Protection)
A little blurb: Sam is an extremely productive painter, and it's fun to trace the stylistic progression through a series of his recent works. For instance, 'Storm Island' is similar in tone and perspective to one of his most popular paintings, entitled 'Anvil Island'. But it's genesis goes way back to a painting called 'Burrard Inlet'. Though different in tone, it features highly stylized cloud designs and a similar visual perspective. Then came 'Burrard Lookout', followed by his incredibly beautiful 'Capilano Lake'. After viewing these paintings, it's easy to see the thread that leads to 'Anvil Island', 'Eternal Home', and now, 'Storm Island'. All feature similar 'island' perspectives, interesting design elements, and of course, that incredibly beautiful color palette that is a trademark of Sam Siegel paintings.

*Colours may vary depending on room lighting, computer monitors, and mobile screens. We make every effort to ensure our representations are as accurate as possible.
Free Shipping for Ready-to-Hang Canvas Prints (Canada & USA)
Delivery Time: It generally takes around 10 business days to ship our Giclee Canvas Prints as we make them to order. We will notify you with the tracking number as soon as it ships!
*Shipping charges may apply for oversized paintings. Please contact us with any questions.
We believe buying artwork should be risk free! We proudly offer a 14 Day Money Back Guarantee. *conditions apply
Our Giclée Canvas Prints
Handmade with care
Each of our Ready-to-Hang canvas prints are numbered, signed and certified. We meticulously stretch them by hand and package them with utmost care. Comes with premium hardware, wire, nail and a hook for easy installation.
We Specialize in Canvas Prints
"In this photo I'm actually holding one of our limited edition Giclee canvas prints of my painting Tree Tops. The original is hanging on the wall beside me. The quality of our prints are insanely great. 🙂"
archival quality
We only use the highest quality archival grade materials at every stage of production. We make sure that your new art will stand the test of time. You never have to worry about fading or warping.
Frame Options
BLACK FLOATING FRAME
Optional 2" deep solid wood frame.
UNFRAMED
1.5" deep canvas with a black edge. All of our canvas prints can be hung without a frame.
WHITE FLOATING FRAME
Optional 2" deep solid wood frame.
Unboxing Video
We have a huge passion for packaging. Every piece is carefully packed and inspected before they are shipped to guarantee their integrity.
Made in Canada
Proudly handmade in Vancouver, B.C Canada – Our canvas prints are graded to last over 90+ years without fading in normal interior conditions.*
Come say hi
Our gallery is located at 1736 West 2nd Ave, Vancouver, BC, Canada.

Open Tuesday - Saturday from 11am - 5pm!
Contact us today